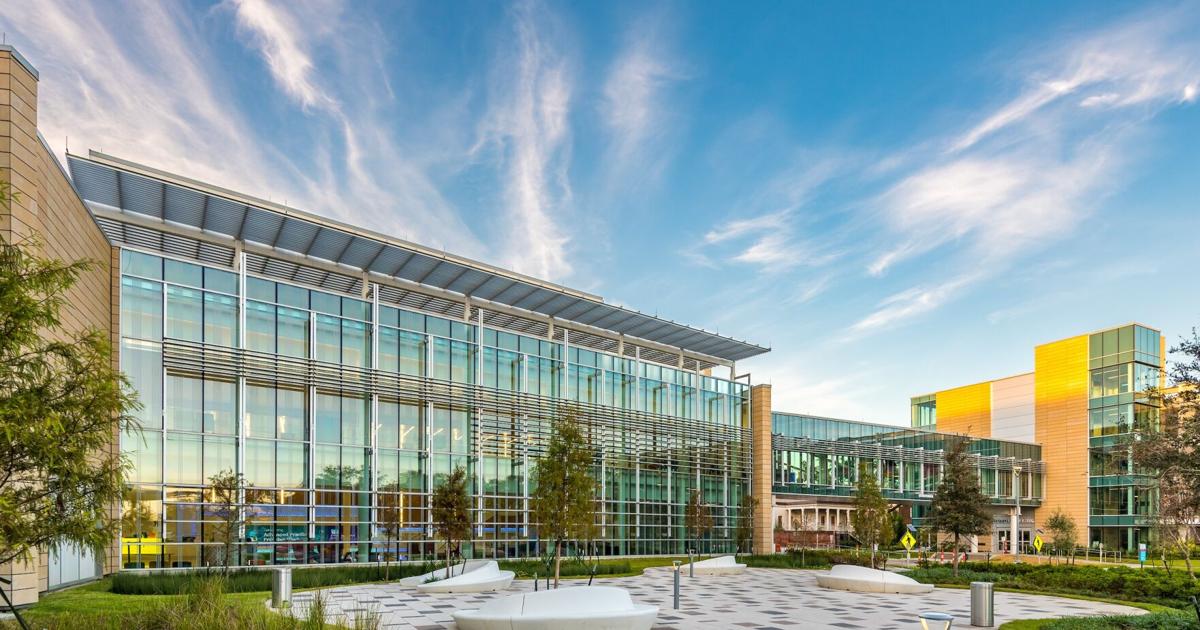 Children's Hospital New Orleans innovates pediatric healthcare with world-class facility and top experts | Sponsored: Children's Hospital New Orleans
Editor's Note
This article is brought to you by Children's Hospital New Orleans.
Children's Hospital New Orleans now serves as one of the country's top destinations for pediatric care, following the completion of a $300 million campus expansion project.
The hospital's 17-acre campus includes more than 230,000 square feet of new clinical care space, a 57,000 square foot pediatric surgery center, 35,000 square foot Cardiac Intensive Care Unit and a 600-vehicle garage. There is also a new 51-bed behavioral health center that houses the only psychiatric program in the Gulf Coast region that focuses solely on the mental health needs of children and adolescents in crisis.
"The completion of our $300 million campus expansion marks a new day for children's health in Louisiana," said John R. Nickens IV, president and CEO of Children's Hospital New Orleans. "The most exciting thing is what this next chapter means for the children and families we serve. Together with our academic partners at LSU Health New Orleans and Tulane University School of Medicine, we are poised to meet the health challenges facing our children and communities by providing the highest level of pediatric care right here in Louisiana."
Jonathan Brouk, Chief Operating Officer of Children's Hospital New Orleans, said one of the design's biggest themes was its focus on both patients and families.
"Parents and caregivers are such an integral part of healing in pediatric care, so it was important to design very family-friendly spaces," he said. "The hospital had evolved organically, but this was the first time we thought about what was needed globally for the entire organization and the families we serve."
The Betty and Hank Lauricella Pavilion at the Children's Hospital New Orleans is a meeting space for patients, families, and visitors overlooking the first-floor lobby, waiting areas, and outdoor green spaces.
Supplied photo
Brouk said another primary goal was to improve spaces that support some of Children's Hospital New Orleans' signature programs. This resulted in the construction of 12 new operating rooms with state-of-the-art technology, an expanded treatment area for burn patients, special rooms for minimally invasive procedures and the new 28-bed cardiac ICU. Additional improvements include an all-new expanded emergency room with two dedicated trauma rooms and an eight-room behavioral health pod.
"We recently confirmed that we will be a Level Two pediatric trauma center, so children will come here immediately after serious accidents. We wanted to build operating rooms that could support that," says Brouk. "Our burn services will be a huge asset to families in Louisiana as their closest options have previously been Galveston or Atlanta. And our heart center is one of our signature programs. It's an incredibly complex job and we had to make sure they have the right resources and space. had."
The Cardiac Intensive Care Unit at Children's Hospital New Orleans.
Supplied photo
Brouk also said he is proud of the new Comprehensive Center for Cancer and Blood Disorders, which will expand the hospital's nationally recognized hematology and oncology program. Children's Hospital is the only accredited pediatric facility in the state, with the largest and most experienced group of pediatric cancer specialists in the region.
"We used to have inpatient and outpatient hematologic oncology services on different sides of the hospital, so a child and his family sometimes had to go to two completely separate parts of the building," Brouk said. "Now it's all in one place so the family can stay in one environment."
The renovations have also resulted in a different aesthetic throughout the campus, which emphasizes total wellbeing. The themes of nature and music can be seen and felt throughout the building. There are areas for meditation, recessed seating for quiet reflection or reading, and custom artwork from local artists.
"The design features large glass, which provides plenty of natural light, and spacious open spaces that are part of the care experience," said Brandon Kristol, the hospital's director of operations and construction project manager. "When patients recover, we don't want them to feel isolated all the time."
Kristol said he is especially pleased with the new Child Life Center, which includes playrooms where patients can spend time with their siblings and participate in activities such as games or movie screenings, just as if they were at home. There is also a family resource center, which Kristol said is similar to a business center and allows parents to work remotely or take on other commitments, with easy access to hospital support services.
"We wanted to create spaces for families where things can still feel somewhat normal, even in difficult times," he explains.
An examination room in the emergency department at Children's Hospital New Orleans.
Supplied photo
To help families navigate the sprawling campus, Kristol said there are three fully staffed entrances for patients with different needs. There is a main entrance, one at the lower pavilion leading to specialist outpatient clinics and a third to the emergency room.
"When we think of New Orleans, we think of a place known for its hospitality. We want patients and families to have that same experience at our hospital," Kristol said. "Our team is committed to helping patients and families navigate campus and make a warm handover to the right person in the department they need."
While the project is complete, Brouk said a number of other new initiatives are on the way. A historic building on the hospital campus is currently being refurbished and transformed into a Ronald McDonald House with 22 suites for families of patients. And, in partnership with the Kids Join The Fight nonprofit, Children's Hospital New Orleans will build a $10 million child enrichment center on campus that will resemble an interactive children's museum.
"I think the investment in this campus is one of the great economic development stories of New Orleans in recent years," Brouk said. "We've recruited about 100 top doctors from across the country, largely because of the resources we provide. We have great academic partnerships. We've come a long way, but in some ways we feel like we're just getting started – all with a vision to improve the health of the next generation."