Citing 'misleading' statements on masks and COVID-19, Alaska pediatrician group questions whether Anchorage's chief medical officer is fit for the role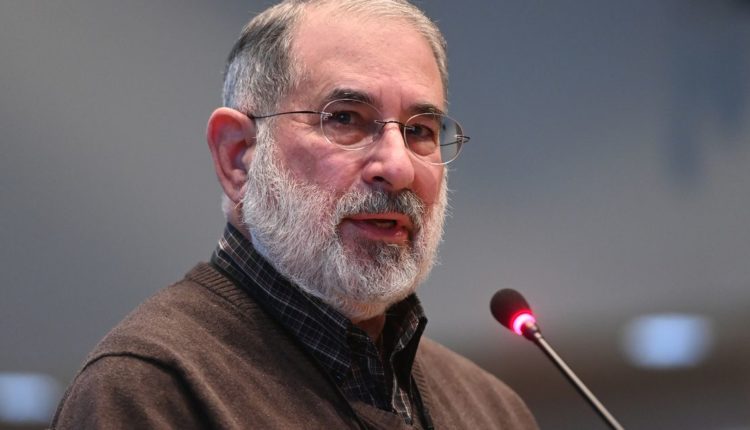 An Alaska pediatrician's organization denounced recent statements by the chief physician of the Anchorage health department in a letter on Thursday, questioning his objectivity, saying he made several inaccurate statements and questioning his suitability for the role.
In the letter from members of the American Academy of Pediatrics Alaska Chapter to Dr. Michael Savitt, a pediatrician and Anchorage Chief Medical Officer, cited doctors as multiple concerns about Savitt's comments at an Anchorage Assembly meeting on Tuesday.
Among them: Savitt's description of Anchorage's COVID-19 case numbers as "good" and his statements that question the effectiveness of mask-wearing. The group also cited "serious concerns" about Savitt's objectivity.
Anchorage Mayor Dave Bronson, a staunch opponent of government-imposed COVID-19 restrictions, hired Savitt in July following the abrupt resignation of the health department's epidemiologist.
[Anchorage Assembly overrides Mayor Bronson's veto of mask emergency ordinance]
"As your peers and colleagues, as well as concerned citizens of this city, we no longer feel that you demonstrate your ability to accurately and objectively advocate for the public good of the residents of this community," the doctors wrote to Savitt. "This administration's actions suggest that either your advice has conflicted with public health best practice, or your advice has been totally ignored."
Either way, we ask that you consider whether your role really contributes to the fight against our common enemy: the COVID-19 pandemic, they said.
Savitt did not immediately respond to a request for comment.
Savitt made the statements to the Assembly on Tuesday when the body voted to pass an emergency ordinance requiring people in the city to wear masks in indoor public areas. He responded to a question from MP Jamie Allard, who opposes the mask ordinance, asking him to "explain to the members of the body how much our COVID cases have fallen."
"All the numbers look good," Savitt told Assembly members, pointing to the 14-day moving average of COVID-19 cases per 100,000 people in Anchorage.
The doctors refuted that point in the letter, citing Anchorage's still high COVID-19 transmission rate and the limited capacity of the intensive care unit.
"By no standard definition of public health, a rate of 115 cases per 100,000 inhabitants per day is a 'good' number," they said.
In addition, they said Savitt had inaccurately compared Anchorage School District's COVID-19 cases to Anchorage's cases when he told assembly members he was "not quite sure whether the masks really help, at least as far as the school is concerned." "
The doctors called that point "grossly misleading," saying he far underrepresented the number of active COVID-19 cases in the city when comparing it to the number of active cases in the school district.
The doctors also objected to the way Savitt spoke about wearing a mask at the meeting:
'I have been vaccinated, but as a courtesy to the Assembly, since you asked us to wear masks, I am wearing one. I don't need a mandate to tell me to wear a mask," Savitt told Assembly members.
The doctors said others choose not to wear masks without an order and that face coverings are "significantly more effective when ALL wear masks because of the source control provided to INFECTIOUS individuals."
[Alaska reports nearly 1,000 COVID-19 cases, 2 deaths and another uptick in hospitalizations Thursday]
The Federal Centers for Disease Control and Prevention recommends that people wear masks regardless of vaccination status in areas with high transmission rates of COVID-19. The number of COVID-19 cases in Alaska is currently the highest in the nation per 100,000 people in the past week, and Anchorage specifically has a high level of community transmission, according to the CDC.
In the letter, the doctors wrote that Savitt's testimony undermined previous statements he had made in support of public health measures, such as COVID-19 vaccinations. Based on hearing the testimony, the doctors wrote that they understood that he did not think Anchorage residents should wear masks in public, which violates state and federal guidelines.
"You, in your official capacity as Chief Medical Officer of the Anchorage Health Department, have made the factually dubious statements summarized above on behalf of a member of the Assembly, essentially testifying AGAINST one of the very public health interventions that you have previously stated that you she supports," the letter reads.
Before taking on the new role as medical director, Savitt wrote numerous politically charged commentaries on a local conservative website over the course of the pandemic. Those comments criticized the Anchorage Assembly and former mayoral administrations for COVID-19-related restrictions, including past mask mandates, and questioned the effectiveness of masks as a tool against the virus.
In an emailed statement in August, in response to a question about the comments, Savitt said, "My comments are not in context by themselves. Regardless of how and why they were made, I should have been more judicious in my responses. I also want to emphasize that my work ethic forces me to leave politics out of my decision-making, and how I fulfill my responsibilities."
The current COVID-19 wave in Alaska, which swelled through the end of the summer and took the number of cases and virus hospitalizations to new pandemic heights, is putting an additional burden on already stretched hospitals. In Anchorage, all three major hospitals have activated crisis standards for care to provide flexibility, liability protection and guidance in prioritizing when care and resources are scarce, although the situation varies from facility to facility and from day to day.
When contacted for comment, a representative from the Alaska chapter of the AAP said via email that all of the physicians who signed the letter were busy caring for patients and that "we'd like to let the letter speak for itself. "
[Read the letter:]