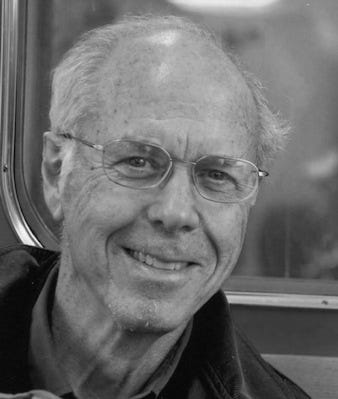 David H. Binstadt, M.D. Obituary
David H. Binstadt, MD
dr. David H. Binstadt (aged 79) of Fishers, IN, died on April 7, 2022 after a long battle with Parkinson's disease. dr. Binstadt was a retired pediatric radiologist who spent 25 years at St. John's Hospital in Springfield, IL.
David was a graduate of Miami University (Ohio) and the College of Medicine at the University of Cincinnati. He received his postgraduate medical education from the University of Minnesota. In Springfield, he was affiliated with the Southern Illinois School of Medicine, where he was clinical professor of radiology and pediatrics.
Prior to David's death, his parents, Dr. Erwin and Elizabeth Binstadt of Cincinnati, Ohio, and a brother, Thomas.
He is survived by his loving wife of 56, Chari Yost Binstadt, son Dr. Bryce (wife Emily) Binstadt of Stillwater, MN, daughter Melanie (husband Mike) Fitzgerald of Fishers, IN, and son Brady Binstadt of Corte Madera, CA . He had seven grandchildren: Kensington and Annika Binstadt; Eleanor, Henry and Audrey Fitzgerald; and Oliver and Zola Binstadt. He is also survived by his brother Richard Binstadt and sister Elaine (husband Ed) Shernoff, both of Cincinnati, OH, along with several cousins.
David's most cherished times were with his family. His appreciation for the outdoors and nature will live on in his family members. His sense of humor was second to none. He enjoyed photography, bird watching, hiking, golfing, stargazing and watching sunsets surrounded by family. He had fond memories of the time he spent in northern Minnesota and northern Michigan. He and Chari spent many summers at their home in Glen Lake, MI, where their family still enjoys getting together.
There will be a celebration of David's life in the coming weeks. Consider planting a tree in memory of David instead of flowers. Donations in David's memory can be made to Rock Steady Boxing in Indianapolis, IN, or to The Leelanau Conservancy in Leland, MI.
Rock Steady Boxing: https://www.rocksteadyboxing.org/donate/
The Leelanau Conservancy: https://leelanauconservancy.org/donate/
Posted online on April 09, 2022
Published in KY Enquirer, Cincinnati Enquirer