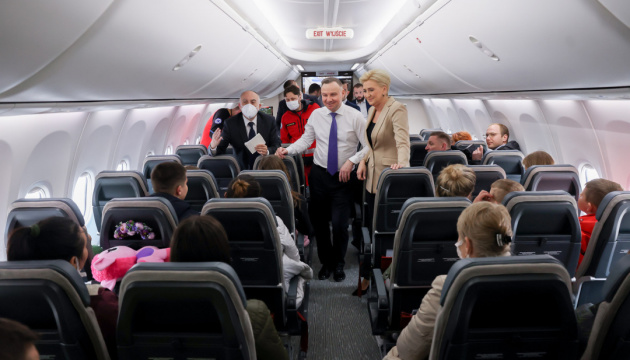 Duda takes Ukrainian children with cancer to Italy on presidential plane
Polish President Andrzej Duda and First Lady Agata Kornhauser-Duda took Ukrainian children with cancer on a presidential plane to Rome while visiting Italy and the Vatican.
The children will be treated at a children's clinic in Rome, Ukrinform reports, citing a publication on Duda's Facebook account.
"Ukrainian children, for whom cancer therapy was being prepared by the Baby Jesus Pediatric Hospital in Rome, flew with us to Rome," Duda wrote.
He noted that the youngest passenger on their plane was Victoria, who was born two months before the Russian war against Ukraine.
"We prayed today at the tomb of St. John Paul II so that her name would be prophetic of her homeland," Duda wrote.
According to the office of the President of Poland, a total of five children from Ukraine were on board the presidential plane with their siblings and guardians. Polish First Lady Agata Kornhauser-Duda later visited them in the hospital in Rome.
According to the office of the president of Poland, during their meeting, Duda told Pope Francis about the situation in Ukraine and invited him to visit Poland. The president of Poland said it would be an opportunity to meet two peoples – Poles and Ukrainians – given the large number of Ukrainians who found temporary shelter in Poland fleeing the war with Russia.
As reported, about 2.5 million Ukrainians have arrived in Poland since the beginning of the Russian invasion of Ukraine.
Photo credit: https://www.prezydent.pl
old