Lewis County, West Virginia woman battling breast cancer is thankful she followed through on getting mammogram | WV News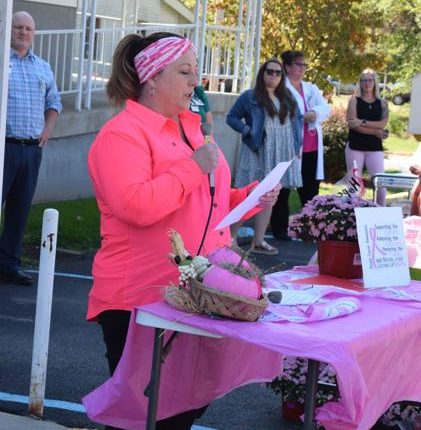 WESTON, W.Va. (WV News) — She nearly canceled the appointment a second time.
But Christa Shaver is glad she continued to reschedule her annual mammogram. On July 2, she was diagnosed with ductal carcinoma in situ and is continuing treatment.
Mon Health's clinical IT applications analyst who works at Stonewall Jackson Memorial Hospital had delayed her first scheduled mammogram after being hurt by a fall on the ice.
"I almost pushed it back," Shaver said of the most important diagnostic test that often leads to early detection of breast cancer. "Thought I can skip this one and go later."
But she says she kept hearing her friend's voice in her head.
"I have a friend whose mother passed away (from breast cancer)," Shaver said. 'All I heard was my friend say, 'You can't skip that.' She would have been all over me."
Shaver is clearly grateful that she listened to that "voice" and hers.
"It made a big difference," Shaver said. "A year later it could have been a very different scenario for me. Mine was discovered early and is considered non-aggressive and non-invasive."
Her cancer is in a duct in the breast and has not spread.
Because of that and other genetic markers, Shaver underwent a lumpectomy instead of a full mastectomy.
She is also undergoing radiation therapy five days a week until November 1. She will meet with her medical oncologist on November 2 and, based on lab work, will be given some form of hormonal therapy to help reduce the recurrence of the disease.
Three weeks into the daily trips to Morgantown, after a full day's work, are starting to take its toll, Shaver admits, saying she's tired.
"Stress is also a factor," she said. "I'm starting to feel a little tired, a little sore. Starting to have some effects (from the radiation)."
But above all, Shaver feels blessed in many ways.
"I've definitely had a strong support system," Shaver said. "My husband, Kenneth, has been wonderful. He took time off because he wanted to be there for me."
Both of her adult children have also been a great support, offering to run errands and keep her cheerful.
And her workplace, Mon Health, has been flexible in letting her work earlier in the day so she can keep her appointments.
"My supervisor Stacy Goins has been a huge support to me," Shaver said. "She is completely understanding, as are my immediate colleagues. They've been willing to bypass anything I need."
She also credits her faith and the support of her church.
"I've prayed a lot and know that many others are praying for me," Shaver said. "I'm involved in a community group at the church…and my mom has a lot of faith.
"I've certainly had a lot of people pray for me over the past few months. And the way it's worked out, I'm sure God had a hand in it."
Shaver is remarkably calm while discussing her illness and treatment. When asked if her medical background helps her with that, she paused before answering.
"It's still scary," she said. "It's a rollercoaster of emotions. Trying to move from your diagnosis to your treatment options.
"I am medically substantiated, but not necessarily with breast cancer. When I got my diagnosis, I wanted to know all about it. I wanted genetic testing," to see if her children were at risk and to determine treatment options.
Even during treatment, Shaver has become an advocate for early detection and treatment, most recently at the annual Lewis County Breast Cancer Education Luncheon.
"Catching it very early makes all the difference in the world," Shaver said. "Being proactive is the most important thing you can do. Early detection is always key."
Shaver said, regardless of age, self-exams are important, and if there are lumps or abnormalities, she urges to get a mammogram.
"Be proactive about your health," Shaver said. "When you're young and find something, you have to fight to get that mammogram. Be an advocate for yourself, your family and friends. Early detection is key. We all want to be there to watch our children and grandchildren grow up."