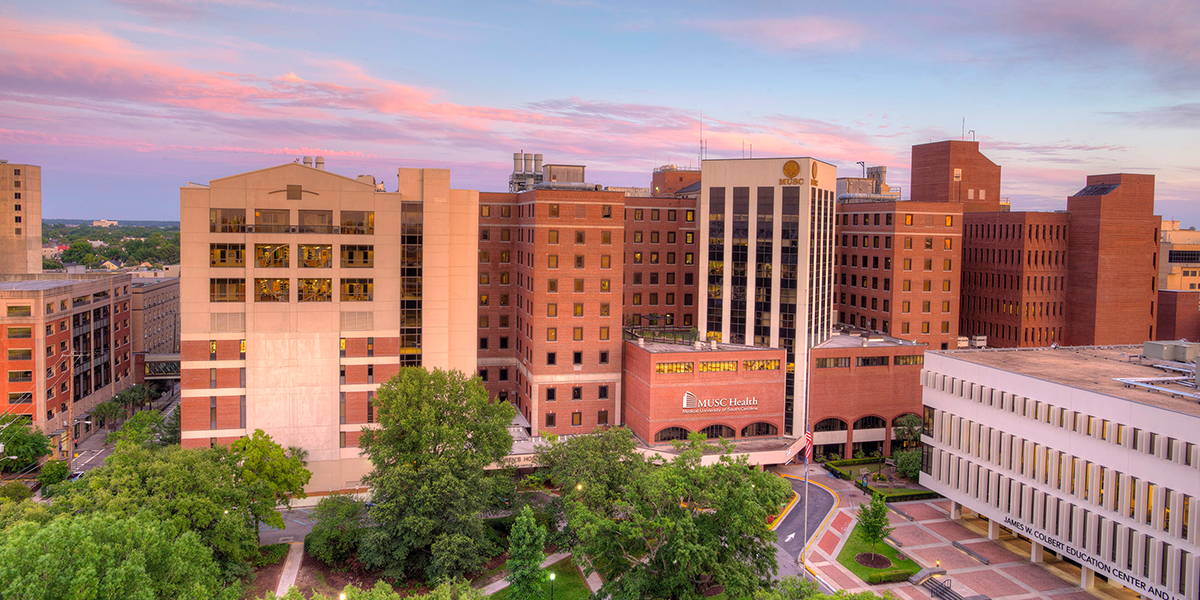 MUSC board receives reports on institutional wins, votes to pursue funding for elevated walkway on Charleston campus | MUSC
CHARLESTON, SC (April 11, 2022) † The Board of Trustees of the Medical University of South Carolina (MUSC) and the Medical University Hospital Authority (MUHA) held their regularly scheduled committee and board meetings on April 7 and 8, respectively, and returned to pre-pandemic meeting activities.
David J. Cole, MD, FACS, MUSC president, provided board members with a regular report detailing numerous "wins" in the institution's teaching, research, and clinical missions. Some specific highlights included an update on the growth of the In Our DNA SC community health research program, as well as MUSC's role as a co-leader in the $3 million, 4-year Stand Up To Cancer grant that founded the Southeastern Consortium for Lung. Cancer Health Equity from NCI Designated Centers (MUSC, Virginia Commonwealth University and University of North Carolina-Chapel Hill). The institutions involved have a common goal to identify and remove barriers to lung cancer screening and to develop more precise strategies to identify those at high risk. Lung cancer is the 2nd most common cancer in the US and the leading cause of cancer deaths in black and white men and women. The study pairs grassroots and population and behavioral scientists at each institution to create research that focuses heavily on translational and health disparities.
Cole also highlighted the recent No. 1 national patient survival ranking associated with the MUSC Burn Center (Vizient – 2021 Q1, Q3 and Q4 quality data, adult and pediatric services combined) and congratulated the team on their recent quality achievements and innovative burn care for adult and pediatric patients.
"As the only comprehensive burn center and program in South Carolina, not only have we seen increased volumes and helped deliver this specialized care in the state, our teams have been able to do so while being innovative in what they can do to patients. provide and by consistently high marks for the quality of care they provide," Cole said. "Achieving this recognized level of patient care, safety and outcomes is outstanding."
The board voted to approve the pursuit of funding for an elevated MUSC campus walkway to physically connect the entire MUSC campus in Charleston and maintain accessibility and operation during disaster relief and recovery.
"This elevated walkway is a critical flood and storm resilience investment for the flagship MUSC campus on the Charleston Peninsula," said James Lemon, DMD, chairman of the MUSC board of directors. "It is certainly no secret that the area is subject to flooding during storms, heavy rainfall and sometimes during normal high tides. We want to partner with federal and state authorities to fund the protection of the state's only comprehensive academic medical center so patients, healthcare team members, and supplies can move freely from building to building during storm and flood events. There may be a storm raging outside, but our people need to be able to provide the high-quality care and relief that South Carolinians depend on."
The project aims to build an elevated connecting bridge adjacent to Doughty Street from the second floor of the Ashley River Tower over Courtenay Drive to the second floor of the Bioengineering Building. Connections from this Doughty Street bridge will also be made on the second floor of the Thurmond Gazes Building and the Institute of Psychiatry building. A separate connecting bridge would be constructed from the second floor of the College of Nursing Building to the second floor of the Clinical Sciences Building. Once completed, all major campus buildings at the second floor level would be connected.
The board also voted to approve the renovation of the existing ground floor of the College of Nursing (CON) building on Jonathan Lucas Street. The ground floor renovation will cover approximately 11,000 square feet and will include a new accessible lobby by Jonathan Lucas on the ground floor, as well as an interior staircase to access the 2nd floor. The university-wide simulation center has been occupying the first floor of the CON building since around 2017; upon completion of the new MUSC Simulation Center at the Colbert Library this summer, this space will be returned to the CON. The primary goal of the renovation is to increase student learning space to manage current enrollment, as well as increase student enrollment in academic programs, especially the on-campus ABSN program.
In other cases, the 16-member MUSC/MUHA board also voted to approve the following points:
A lease for 61,645 square feet of clinical and office space located at 2001 Laurel Street, Columbia. The purpose of this change is to extend the lease term for MUSC Health Heart and Vascular by an additional six months. Renewal of lease for 2,316 square feet of office space located at 52 Courtenay Drive, Charleston. The purpose of this lease is to continue to provide office space for Psychiatry & Behavioral Sciences. This lease extension is for 9,000 square feet of space located at 1001-B Michigan Avenue, Charleston. The purpose of this lease is to continue to provide space for the MUSC Children's Day Treatment Program. This lease extension concerns 7,962 square feet of office space located at 20 Ehrhardt Street, Charleston. The purpose of this lease is to continue to provide temporary office and swing space for allocation by the MUSC Executive Vice President Finance & Operations. This lease extension concerns 75,018 square feet of office and warehouse space located at 4295 Arco Lane, North Charleston. The purpose of this lease is to continue to provide space for MUSC Business Services, including the University Records Center, Warehouse Operations, University Press and University Surplus.
The MUSC/MUHA Board of Trustees acts as separate bodies to govern the university and hospital, and normally holds two-day committee and board meetings six times a year. For more information about the MUSC Board of Trustees, please visit the webpage.
†
About MUSC
Founded in 1824 in Charleston, MUSC is the state's only comprehensive academic health system, with a unique mission to preserve and optimize human life in South Carolina through education, research, and patient care. Each year, MUSC trains more than 3,000 students in six colleges — Dentistry, Graduate Studies, Health Professions, Medicine, Nursing, and Pharmacy — and educates more than 850 residents and fellows in the health system. MUSC brought in more than $327.6 million in research funds in fiscal 2021, leading the state overall in research funding. MUSC also leads the state in federal and National Institutes of Health funding, with more than $220 million. For information on academic programs, visit musc.edu.
As the health care system of the Medical University of South Carolina, MUSC Health is committed to providing the highest quality and safest patient care while educating and training generations of outstanding caregivers and leaders to serve the people of South Carolina and beyond. Patient care is provided in 14 hospitals with approximately 2,500 beds and five additional hospital sites under development; over 350 telehealth sites, with connectivity to patients' homes; and nearly 750 healthcare locations in all regions of South Carolina. In 2021, for the seventh consecutive year, US News & World Report named MUSC Health the No. 1 hospital in South Carolina. For more information about clinical patient services, visit muschealth.org.
MUSC and its affiliates have combined annual budgets totaling $4.4 billion. MUSC's nearly 25,000 team members include world-class faculty, physicians, specialty providers, scientists, students, affiliates and healthcare team members who deliver and support groundbreaking education, research and patient care.