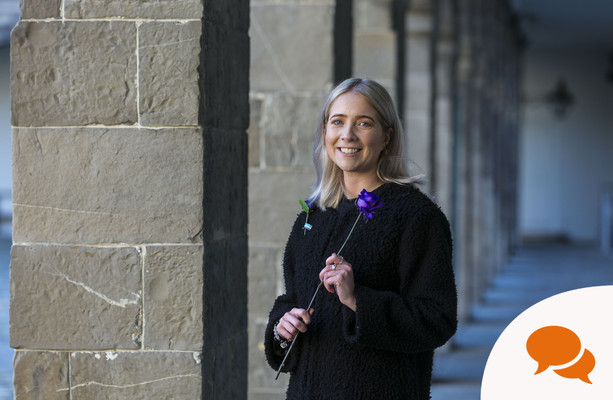 Opinion: 'At 27, with no children, cystic fibrosis and now cervical cancer
AFTER MY TRAVELS around the east coast of Australia in 2017, I settled in Bondi Beach doing temporary temporary jobs. I loved the Bondi lifestyle. It was everything I dreamed of and more.
A dry climate ideal for my cystic fibrosis.
Salty air could be breathed in through my balcony door to dry my chest from the filthy mucus. Beautiful coastal walks along steep slopes, healthy cafes, not to mention countless gyms and Pilates studios.
Source: Aoife Rafter
This was my new home for the next few months. It almost felt too good to be true and unfortunately it was.
Regulations
Soon my world was turned upside down. Due to new regulations in Ireland I was no longer able to access my miracle drug Kalydeco/Ivacaftor abroad as I would now have to come home for monthly checkups at my CF clinic to be prescribed.
I got so sick of all the stress that this entailed that I ended up in hospital in Sydney. But I knew my body. I sensed that something even more sinister was going on. I went to my GP for a Pap smear even though I had one last year.
As I became increasingly lethargic and overwhelmed by what was going on regarding access to my drugs, I realized the universe was trying to tell me something. It was time to pack up and go home. It broke my heart to leave this wonderful lifestyle and all the wonderful friends I had made.
I contacted my cystic fibrosis team at home and arranged a scheduled admission the day I landed. I couldn't quite turn my head around it. But the universe wasn't done changing my path yet.
More difficult news
After reuniting with family on the morning of my return, I opened my emails and discovered a letter from my gynaecologist in Sydney.
She diagnosed me with a 1B1 cancerous tumor in my cervix. At the age of 27 no children, cystic fibrosis and now cervical cancer. My world collapsed. My heart was beating. And my throat went raw from the sounds my vocal cords were making. I was broken.
My CF team quickly put me in touch with an oncology consultant. The treatment plan included a radical hysterectomy that would remove all but my ovaries. I could never get pregnant or conceive a child naturally.
Source: Aoife Rafter
I didn't have time to catch my breath. It was all systems go. For months I was constantly in and out of the hospital attending the oncology and cystic fibrosis clinics.
Fortunately my operation was successful. The next turn of events was 25 sessions of pelvic radiotherapy that Christmas. This came with side effects. Until now, the main villain has been early menopause. I've been experiencing hot flashes and horribly low moods due to the change in my hormones since I turned 28 in 2020.
Best care
But when these side effects feel like they're all too much and completely unfair, I focus on what could have been if I hadn't listened to my body or had access to the thorough health care and great doctors I did.
When the radiotherapy was done, I was ready to take life by the horns and show my gratitude that I was still alive. But then again, with the advent of Covid-19, the universe wasn't ready to teach me (and humanity in general) some hard lessons!
I cocooned for the guts of two years in my bedroom in Kildare. I ate separately from my family. I haven't seen my new boyfriend for four months. And, most importantly, I missed oncology and CF appointments because of Covid-19 outbreaks in the hospitals.
Of course, my mental health deteriorated rapidly. The changes in my hormones as a result of the progress of the menopause also had a strong negative effect on this. Unfortunately, I've even tried to do something about suicidal thoughts.
Fortunately, my resilience, a daily antidepressant, various holistic therapies, lots of hugs from my four-legged fur baby, Brax, my CF psychologist, the support of loved ones, and falling in love with a man from Wexford have kept me going!
Source: Aoife Rafter
I'm sure I will still feel some degree of fear in the future in a world where Covid still exists but restrictions don't. However, I have learned that focusing on the parts of life that I have no control over will not serve me well.
self care
All we can do is focus on how to keep ourselves healthy and safe. For me, that includes risk assessment events that are crowded, wearing masks in crowded places and on public transportation, and participating in many things that boost my immune system, such as acupuncture, sea swimming, reflexology, yoga, and other regular exercises.
Now that I live in the sunny south east, I am only a five minute walk from the coast. I am qualified as a reflexologist. I am in training to become a Breathwork Coach. I use my platform on Instagram to act as a patient advocate. I have become a regular writer on health and wellness and will be launching a podcast soon.
People often think I'm crazy when I explain that I've been so lucky to have experienced everything. But I am. I am here to tell the story and to have the opportunity to use such a traumatic experience in a positive way. I've documented my journey with CF on Instagram for years and my journey and recovery from cervical cancer has been no different.
I find comfort and gratitude in the connections I have made online. It has helped me to find my purpose in life by helping others. It is both my pleasure and my duty to advocate for such issues, to encourage others to be examined and to become more in tune with their bodies. Knowledge is power.
#Open journalism No news is bad news Support The Journal
Your contributions will help us continue to deliver the stories that matter to you
Support us now
Aoife Rafter is an ambassador for Cystic Fibrosis Ireland's 65 Roses Day which takes place on Friday 8th April. Please support by entering a 65 Roses Challenge, donating online at www.65Roses.ie or purchasing a purple rose at participating Dunnes Stores, shopping centers and other retail outlets nationwide.
You can keep up to date with Aoife's journey on Instagram @aoife.pr and at www.aoifepr.com.
†
If you want to talk, please contact:
Samaritans 116 123 or email jo@samaritans.org National Suicide Helpline 1800 247 247 – (suicide prevention, self harm, grief counseling) Conscious 1800 80 48 48 (depression, anxiety) Pieta House 01 601 0000 or email mary@pieta.ie Teen -Line Ireland 1800 833 634 (from 13 to 19 years) Childline 1800 66 66 66 (for under 18)