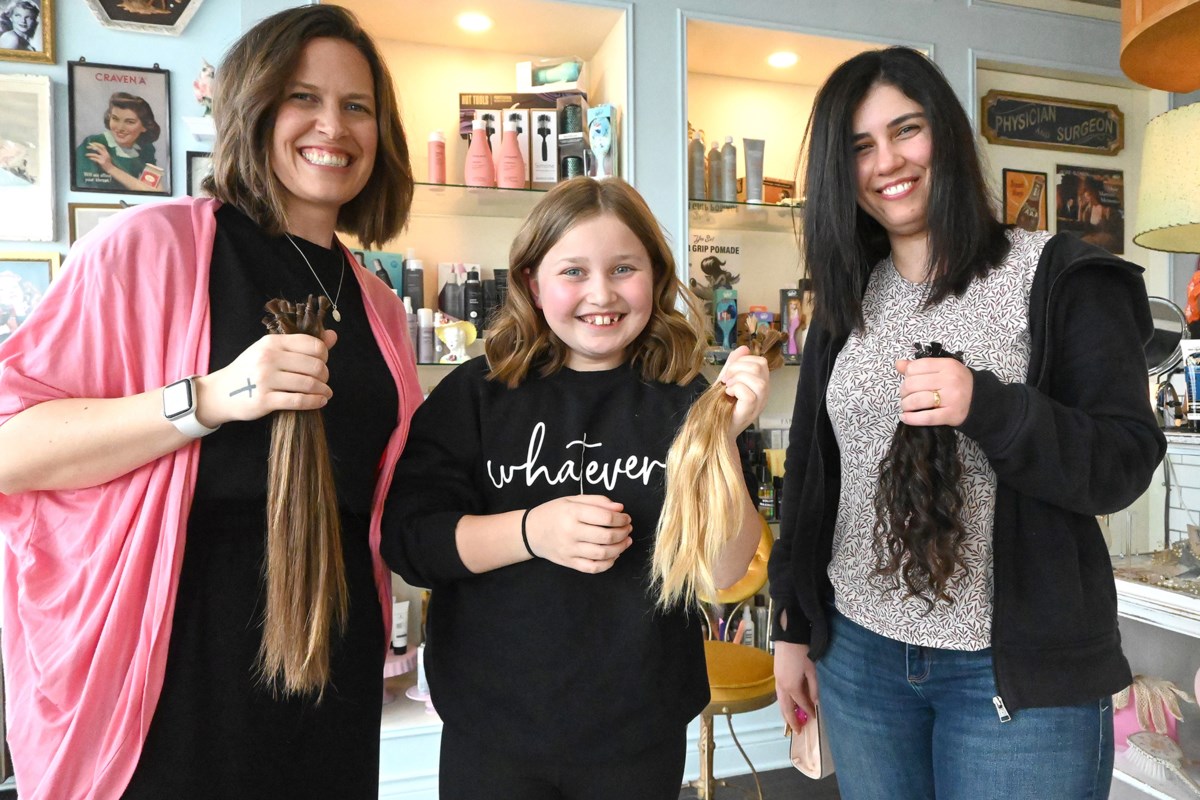 Photos: Delta Optimist carrier and her family delivers for Wigs for Kids
10-year-old Ayla Keen from Tsawwassen and her two aunts cut their long hair to donate and raise more than $2,000 for BC Children's Hospital
Optimistic courier Ayla Keen has a delivery to make and this time it's for a special purpose instead of her normal Thursday route in Tsawwassen.
The 10-year-old convinced her aunts Sharisse and Sarah to join her in getting their hair cut for Wigs for Kids BC
It is a volunteer-run organization that provides funding to help cover the cost of custom-made real hair wigs for children and teens at BC Children's Hospital who have suffered hair loss due to cancer treatment or other serious illnesses.
Ayla had wanted to do something ever since the fall after losing a close relative to cancer.
"My great-aunt had cancer and died in August and then one of my sister's coaches also got cancer. I just wanted to do something," said the fifth-grade student at South Park Elementary, who hadn't cut her hair in two years.
Last Wednesday (April 6) the big day finally arrived, where Ayla and her aunts were cared for by the staff at Bobby Pinze Beauty Parlor in Tsawwassen Commons. About 10 inches from each had been trimmed, which is the minimum length required for the Wigs for Kids program. It takes 10 donated ponytails to make just one wig.
The hair donation was just part of Ayla and her aunts' campaign. They also wanted to raise at least $600 for BC Children's Hospital Foundation, which would cover the cost of producing one wig. The support is bigger than they imagined with more than $2,100 raised so far. Donations can still be made on the BCCHF Super Heroes website.
"Cancer has too often directly affected our family. After watching (my sister) deal with the side effects of cancer treatments, Ayla decided she wanted to donate her long locks," said her proud grandmother Vicki Bowker. "I am so impressed with this 10-year-old and her heart for reaching out and doing something important."