QI study demonstrates better outcomes for NICU infants with optimized use of CPAP and surfactant: Newsroom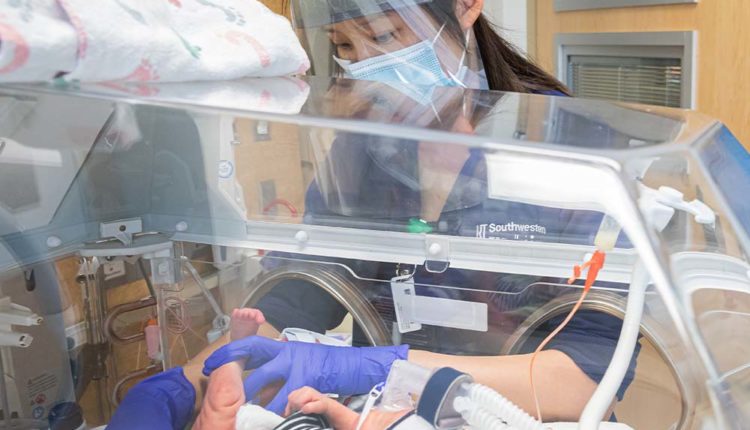 Infants are increasingly admitted to the neonatal intensive care unit, or NICU, from the delivery room on CPAP. New findings show that optimizing CPAP and surfactants improves outcomes.
DALLAS — Oct. 15, 2021 — A study conducted at Parkland Health and Hospital System by neonatologists at UT Southwestern Medical Center showed optimizing the use of continuous positive airway pressure, or CPAP — the same method used to treat patients with sleep apnea – reduced the need for mechanical ventilation in preterm infants when used with less invasive surfactant administration (LISA).
Mechanical ventilation can damage the developing lungs of premature babies, and avoiding intubation reduces death or bronchopulmonary dysplasia, a chronic lung disease that prolongs hospitalization.
"Babies are increasingly admitted to the neonatal intensive care unit, or NICU, from the delivery room on CPAP, but 40 to 50% of those babies fail CPAP and eventually need mechanical ventilation during the first 3 days of life. looking for ways to reduce CPAP failure in preterm infants at 29 weeks or younger gestational age and were able to identify a number of critical factors," said lead author Venkatakrishna Kakkilaya, MD, an associate professor of pediatrics in neonatal-perinatal medicine. The neonatologists are part of the UTSW Pediatric Group physicians who provide clinical services through Parkland Hospital, William P. Clements Jr. University Hospital, Southwestern Health Resources-Texas Health Dallas Hospital and Children's Health.
In Pediatrics, the journal of the American Academy of Pediatrics, the consortium of neonatologists, nurses, advanced practice providers and respiratory therapists who conducted the study outlines a bundle of quality improvement initiatives for preterm infants admitted to the NICU. By carefully increasing CPAP, using LISA, and following strict guidelines for intubation when these measures fail, they were able to reduce CPAP failure and other complications, including pneumothorax and patent ductus arteriosus, a heart problem commonly seen in preterm infants. babies. As a result, fewer babies required mechanical ventilation during the hospital stay.
"The bundle we created, which we call OPTISURF, is now an integral part of the NICU culture. This was critical to our success and is important for others looking to adopt this approach," said senior author Mambarambath Jaleel, MD, an associate professor of pediatrics at UT Southwestern in Neonatal-Perinatal Medicine.
By comparing the use of OPTISURF with pre-approval results, the researchers reported:
higher percentage of infants receiving CPAP within 4 hours of life (7% vs. 32%) lower rates of CPAP failure (54% vs. 11%) lower rates of pneumothoraces (8% vs. 1%) reduced need for mechanical ventilation (58% vs. 31%) less patent ductus arteriosus treatment (21% vs. 9%)
The most dramatic reduction in CPAP failure was in infants at the gestational age of 23 to 26 weeks – 79% vs. 27% – but a significant improvement was also noted in the gestational age of 27 to 29 weeks – 46% vs. 3%.
In addition, the study demonstrated the safety of using a thin catheter for LISA, avoiding intubation. The team also developed a readily available video and used simulation-based training, which played a key role in training doctors to use the new procedures.
"This important study should drive the wider use of these strategies in the neonatal community, and we now need larger studies in various delivery rooms and neonatal intensive care settings for this bundle," said Rashmin C. Savani, MD, chief of the Department of Neonatal-Perinatal Medicine, which holds the William Buchanan Chair in Pediatrics.
Other authors include Heather Weydig, MD; William Smithhart, physician; Shelly Renfro, RRT; Kristi Garcia, RRT; Cari Brown, RNC-NIC; Henry He, MD; Sheron Wagner, DNP; Glenn C. Metoyer, RRT; L. Steven Brown, MS, CPH; and Vishal S. Kapadia, MD Dr. Kapadia is supported by a K23HD083511 grant from the National Institutes of Health.
About UT Southwestern Medical Center
UT Southwestern, one of the nation's premier academic medical centers, integrates cutting-edge biomedical research with exceptional clinical care and education. The institution's faculty has received six Nobel Prizes and includes 25 members of the National Academy of Sciences, 16 members of the National Academy of Medicine, and 14 Howard Hughes Medical Institute Investigators. Its full-time faculty of more than 2,800 people is responsible for pioneering medical advances and is committed to quickly translating science-based research into new clinical treatments. UT Southwestern physicians provide care in approximately 80 specialties to more than 117,000 hospitalized patients, more than 360,000 emergency rooms, and oversee nearly 3 million outpatient visits per year.
related stories