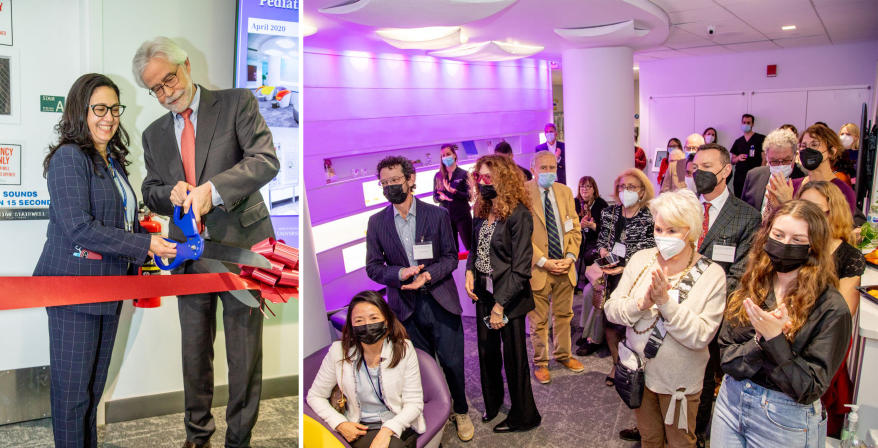 SUNY College of Optometry Dedicates State-of-the-Art Center for Pediatric Eye Care
(PRESS RELEASE) NEW YORK — One of the nation's leading providers of eye care and vision research celebrated the dedication of the recently expanded Barbara Saltzman Center for Pediatric Eye Care, named for the late Barbara Saltzman, former president of the Optometric Center of New York Board of Trustees . The more than $3 million state-of-the-art clinical care facility spans 5,000 square feet, increases the capacity to see up to 10,000 visits annually, leverages evidence-based practices to provide high-quality eye care to our pediatric patients, and trains future eye care professionals.
"Barbara was a generous and passionate advocate for eye and eye care, including the work we do at the University Eye Center," said Dr. David A. Heath, president of the SUNY College of Optometry. "The recently expanded Pediatric Eye Care Center embodies its commitment to improving the patient experience. Through generous donations and the support of lawmakers such as Senator Brad Hoylman, we can ensure that every family that visits receives unparalleled care and support."
"The Barbara Saltzman Center for Pediatric Eye Care will provide innovative and much-needed eye care to children and families in our community. I am proud to allocate funds to help complete the center and am honored to welcome it to my district," said New York State Senator Brad Hoylman. "The University Eye Center has played an invaluable role in our community by providing access to eye care for all New Yorkers. Their support for important research at the SUNY College of Optometry, along with extensive neighborhood programming and outreach, have made the University Eye Center the remarkable community eye care institution it is today."
In 2016, the SUNY College of Optometry received a $1.5 million grant from New York State to expand its pediatric clinical care facilities at the University Eye Center. An additional $100,000 donation was made through the support of Senator Hoylman and several other donors who provided support through the Our Vision for Children campaign. The money raised was used to purchase new equipment, innovative diagnostic technology and modern furnishings to create a welcoming environment for young patients and their families.
Barbara Saltzman has devoted her entire career to healthcare. She was passionate about vision-related goals and was a member of several nonprofit organizations, including the Optometric Center of New York (OCNY), the affiliated foundation for SUNY College of Optometry. Barbara joined the OCNY in 2009 and became chairman of the board in 2015.
"Sight is one of our most precious senses, and I'm excited to support the OCNY and the College as they expand their pediatric area of ​​care and continue to help their youngest patients see better," noted the late Barbara Saltzman in 2019. "The New Pediatric The center has been designed from top to bottom to enhance the patient experience and give every family that comes here access to the same unparalleled level of care that we have come to expect from the University Eye Center."
Advertisement
Donors who have brought the innovative Pediatric Eye Care Center to life include:
Barbara Saltzman, former Optometric Center of New York (OCNY) Chair of the Board of Trustees The Stavros Niarchos Foundation, Goldman-Cohen Family's leading private international philanthropic foundation, recognizes the late Dr. Sandra Cohen CooperVision, world leader in contact lenses and nearsightedness Richard Feinbloom , owner of Designs for Vision and member of the OCNY Board of Trustees Allene Reuss Memorial Trust, a private foundation dedicated to helping, preventing and curing vision problems eyesight
SUNY Optometry, a leader in optometric education and research worldwide, will celebrate its 50th anniversary on April 14, 2022.