'Warming those needing some extra love': Blanket donations to Wellspring Niagara helping people and families fight cancer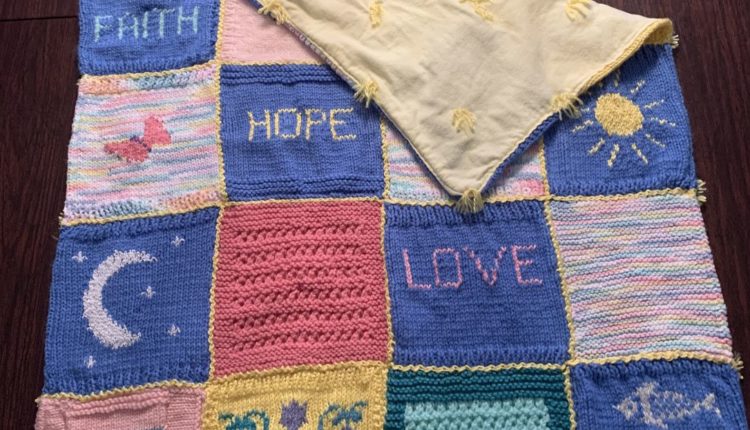 This blanket, made by the knitting group at Nancy's Fiber Art Shop in Beamsville, will be given to one of the children currently participating in Wellspring Niagara's child support and play therapy program.
Wrapping yourself in a blanket can warm you up, but if it's handmade with love, it can share their care.
Wellspring Niagara, a Pelham-based cancer support organization in Niagara, offers their programming and support services for individuals and families dealing with all forms of cancer.
In 2020, Wellspring Niagara served 752 people and registered 5,544 participants in the program.
Phil Gourlay, development officer, events and community relations for Wellspring Niagara, said that over the past year and a half, many wonderful people and groups have been working hard to fill time at home during the pandemic. They worked to create "some amazing homemade gifts to give to our members living with cancer at no cost to them."
Gourlay pointed to the Squares of Hope Blanket Program, which has provided Wellspring Niagara with beautiful homemade blankets with the aim of warming those who need a little extra love during difficult times due to their cancer. This program, coordinated by Gail Anders, has created and donated more than 100 blankets to give to everyone living with cancer.
"Another touching story of making an impact comes from a recent donation to Wellspring Niagara from the knitting group at Nancy's Fiber Art Shop in Beamsville," Gourlay said. "This amazing group has been working together for the past few months to create a handmade children's blanket."
"This wonderful gift will be given to one of the children currently participating in the Wellspring Niagara Child Support and Play Therapy program."
That program includes play and talk therapy in both individual and group sessions with a registered psychotherapist.
Dianne Adams is a member of the knitting group at Nancy's Fiber Arts Shop, located in Beamsville.
Adams said she recently joined the knitting group and was very proud to have participated.
"It's really nice to see a finished project," she said. "You learn something new every time."
Adams said they were proud to support Wellspring, calling it an "outstanding organization."
"They offer so many services and different things," she said. "They're one of those charities that need to be well supported."
In addition to the blanket, Wellspring Niagara's own quilting program has donated two handmade quilts to give to children in this program as well. For more information about the Wellspring Niagara quilting program, please email info@wellspringniagara.ca.
"Wellspring Niagara is truly blessed to have the support of such creative and talented people," said Gourlay.
"We are always grateful when people go out of their way to help others in need. These amazing donated gifts are creations made with love, dedication and time, and we are excited to put their hard work into the hands of our members living with cancer."
"Wellspring Niagara is Niagara's only cancer support center, providing free supportive care programs and services for men, women and children living with cancer," said Gourlay. "Wellspring Niagara is a regional charity that is a place of hope and healing for individuals, caregivers and families in the Niagara region."
If you have been affected by cancer and would like a blanket from the Squares of Hope program, please contact Wellspring Niagara at 905-684-7619 to make an appointment to come to the center to get one for yourself select.
Visit their website at wellspring.ca/niagara/ for more information about Wellspring Niagara.