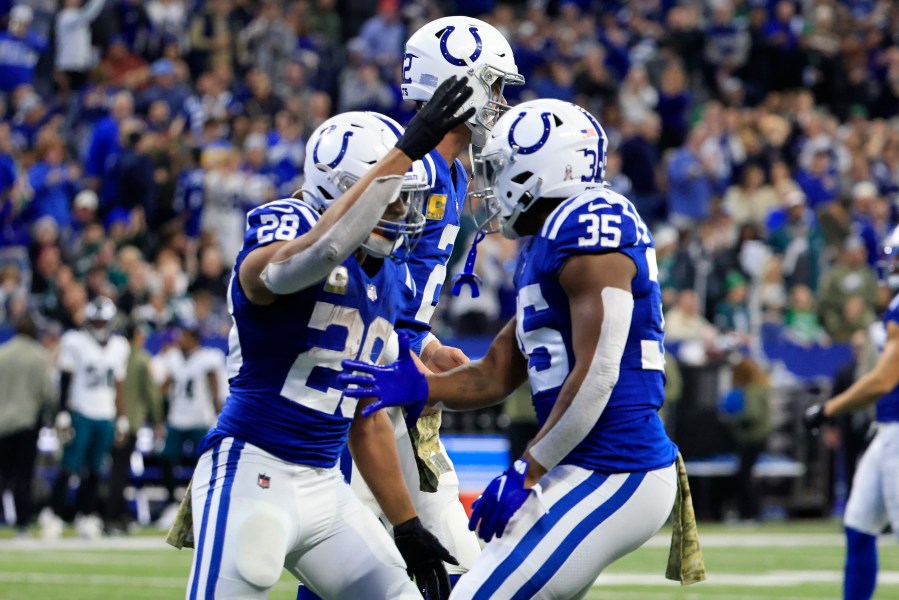 Indianapolis Colts taking 'running back by committee' approach to ground game without Jonathan Taylor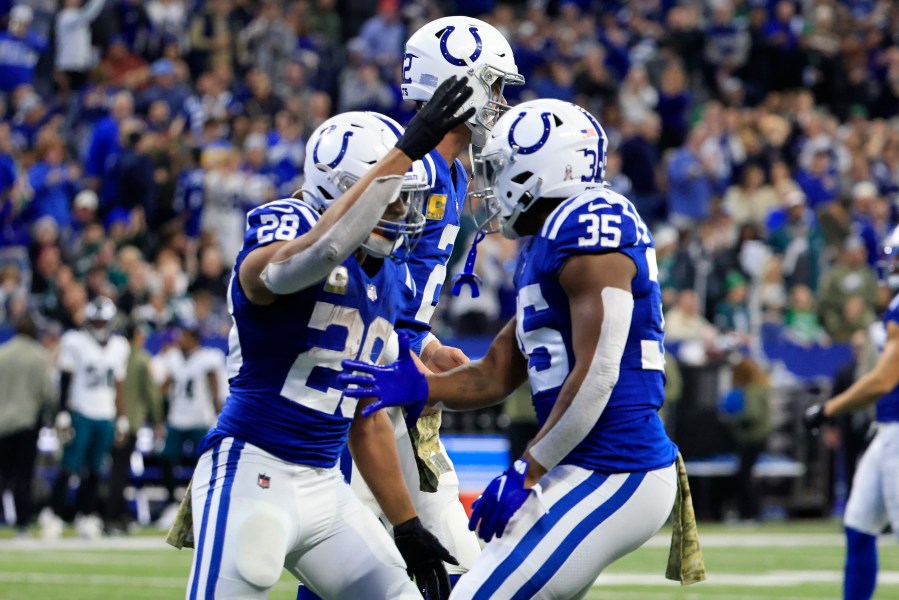 INDIANAPOLIS — At some point during his introductory press conference in February, Shane Steichen offered the overarching offensive philosophy he brought with him from Philadelphia.
We're going to throw to score points in this league and run to win.
It doesn't get any more basic than that.
He also dovetailed that with the roster he was inheriting.
I know we have some pieces in place to get that done, and we should be ready to roll.
Nearly seven months later, the Indianapolis Colts are ready to roll into the Steichen era. It's highly doubtful the established offensive mind but first-year head coach has altered his approach that will be on display Sunday at Lucas Oil Stadium when the Jacksonville Jaguars visit.
The first five or six weeks of the season will determine who the Colts are as a group.
"We're working through that,'' Steichen said Monday. "We want to be tough, we want to be physical, and we want to play fast.''
Offensively, those pieces have changed dramatically.
In April, the Colts used the No. 4 overall pick in the draft on Anthony Richardson. He immediately became their quarterback of the future, and was expected to form a dynamic duo with Jonathan Taylor, the team's star running back.
"We're hoping to create the perfect storm with him and Jonathan Taylor,'' owner Jim Irsay said at the time.
That clearly hasn't happened.
Instead of sharing the backfield with Richardson, Taylor will miss the first four games of the season while on the reserve-physically unable to perform list (PUP). You know how we got here: January surgery on Taylor's right ankle, no contract extension, no trade, etc.
As Irsay so bluntly put it while meeting with the media in late July, "If I die tonight, and Jonathan Taylor's out of the league, no one's going to miss us. The league's going on. We know that. The (NFL) rolls on.''
But let's be clear: There's no universe where the Colts offense is as good without Taylor as it is with him. Not even close.
Think of Peyton Manning's rookie season being assisted by the presence of Marshall Faulk. He routinely referred to Faulk as his "security blanket.''
Special player. Special running back. Special influence. Then, but not now.
Consider the three-year breakdown of Taylor's impact:
*in 42 regular-season games with the 2020 second-round draft pick (excluding the Minnesota game last year when the ankle injury forced him to the locker room after two snaps, and ultimately to IR), the Colts' run game averaged 132.2 yards per game and 4.6 per attempt.
*in the eight non-Taylor games, the averages plummet to 106.1 and 4.3.
But life goes on for the Colts, without Taylor for at least a month, perhaps longer.
Indianapolis' other running backs have taken a business-as-usual approach.
"Honestly, I don't think much has changed,'' said Deon Jackson, who could handle the role of lead back Sunday. "Everything is pretty much the same except for, you know, we've had some injuries, and JT and Zack (Moss) haven't been out there for practice.
"For the most part, nothing has changed.''
Except for, you know, Taylor not stepping on the practice field since the week leading up to the Vikings game in mid-December 2022, and Moss suffering a broken right forearm in late July.
"You're right,'' Jackson conceded. "But injuries and things happen. Once you're in the league a while, you kind of get numb to that stuff. That's the point I'm at.''
One player's unfortunate situation — an injury, a contract dispute — is another player's opportunity.
"Yeah, that's the name of the game in the NFL,'' Jackson said. "You have to make sure you're ready when your number's called. It might not get called again.
"You've got to seize your opportunity when you get it.''
As the Colts prepared for last season's week 5 visit to Denver — on a short week, no less — Taylor was ruled out with the ankle injury. The expectation was for former Bronco Phillip Lindsay and Nyheim Hines to share the bulk of the workload. Jackson was in line for heavy special teams work.
But on the Colts' third offensive snap, Hines sustained a concussion.
"It got a little drastic when Nyheim went down,'' Jackson said. "My reps went from being a third to half-and-half (with Lindsay).''
He would be the Colts' most effective back in their 12-9 overtime win with 13 rushes for 62 yards and four receptions for 29 yards.
"You do whatever is asked of you,'' he said.
And that will be the case again Sunday.
There's a chance Moss will be cleared to play after breaking his forearm July 31 — the first day in training camp the Colts were in full pads.
Moss was back on the practice field Monday, albeit in a walkthrough setting.
"Just getting back out there, working with the guys,'' he said. "Just getting in shape.''
Moss was asked if he was able to maintain his conditioning since he was out with a broken arm, not a hamstring injury.
 "You would think,'' he said with a smile. "The body's crazy. You sit down for a couple of weeks like I had to until they gave me clearance, just getting back in shape is the biggest thing.''
Moss and Jackson would provide Richardson with a pair of reasonable backs in the run game. They were Nos. 2-3 in rushing behind Taylor last season: Moss with 365 yards on 76 attempts (4.8 per attempt) and Jackson with 236 on 68 (3.5).
Moss was the workhorse over the final four games last season (334 yards on 69 attempts, 4.8), including a career-best 114 yards in the season finale against Houston.
Another option against Jacksonville is rookie Evan Hull, who might be best-suited for third-down situations. Jason Huntley and Jake Funk are on the practice squad.
The Colts brought veteran Kareem Hunt in for a visit during camp, and met with former Jacksonville standout James Robinson Monday.
Whatever the composition of the running back group Sunday, it'll be up to Steichen and offensive coordinator Jim Bob Cooter to tap into its collective talents.
"I think it's running back by committee,'' Steichen said. "With anything, whoever's got the hot hand, let them ride a little bit and go with that.
"We'll rotate those guys in, see where everyone is, and like I said, we'll ride with the hot hand.''
It's risky to read too much into how Steichen has meshed his run game with the passing game during his four-year run as an offensive coordinator, the past two with the Eagles after handling things with the Los Angeles Chargers in 2019-20.
Philly ranked No. 1 in rushing in 2021 (159.7 yards per game) and No. 5 last season, but quarterback Jalen Hurts' presence was a major reason.
Miles Sanders was a solid back the past two seasons — 1,269 yards and 11 TDs in '22, 754 in '21 — but Hurts was a constant thorn to defenses with 760 yards and 13 TDs last season and a team-best 784 yards and 10 TDs in '21.
With the Chargers, Steichen's top running backs were Melvin Gordon (612 yards in '19) and Austin Ekeler (530 in '20).
The running-backs-by-committee approach, he insisted, is "more specific to this situation right now.''