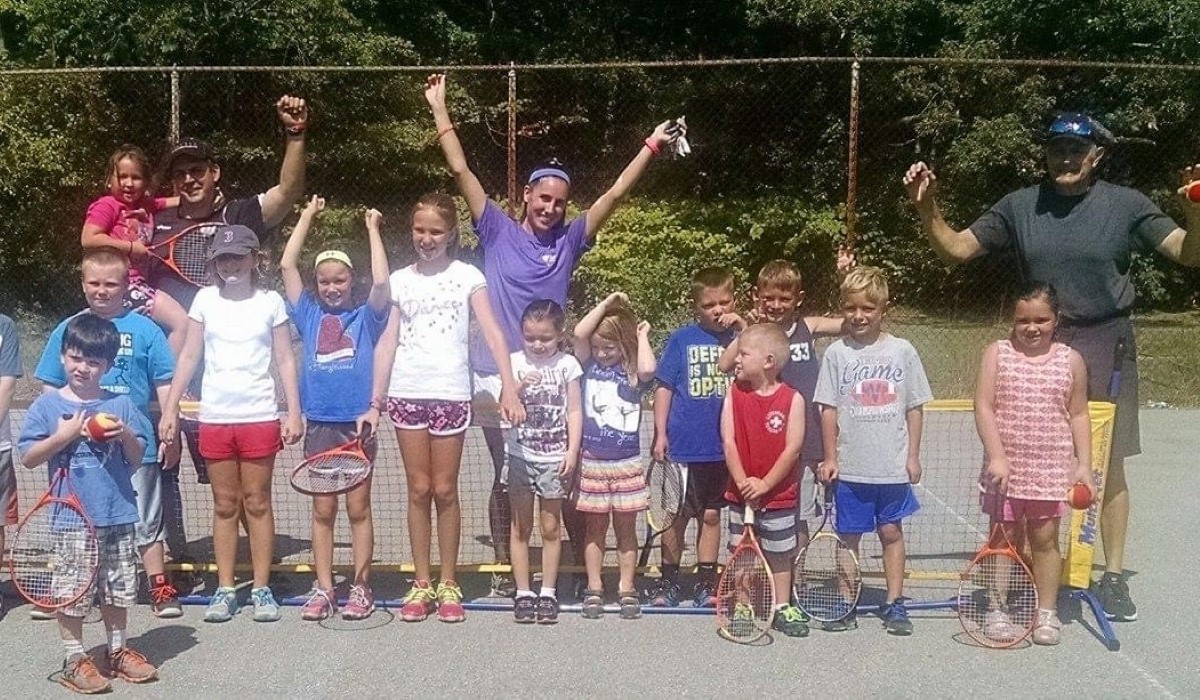 Mom Raises Millions For Families Impacted By Pediatric Cancer
Megan Jusczyk, ninth from right, poses with participants at the tennis camp she and her husband ran to raise money for their nonprofit For Kids' Sake Foundation./Courtesy of Megan Jusczyk
Meet Daily Point of Light Award Honorary Megan Jusczyk. During the third annual Global Volunteer Month, we celebrate the power of people addressing society's greatest challenges and building stronger, more vibrant communities through volunteerism and everyday actions, like Megan. Read her story and join the celebration of Global Volunteer Month.
When Megan Jusczyk received the devastating news that her daughter Malia had been diagnosed with stage four neuroblastoma cancer, it was compounded by also learning how little money there was for childhood cancer research. Despite being the single largest pathogen for children in the United States, the National Cancer Institute spends only four percent of its budget on childhood cancer research. Her desire to make a difference in the lives of other families affected by childhood cancer led Megan and her husband to create For Kids' Sake Foundation in 2011.
The nonprofit aims to raise both funding and awareness for neuroblastoma cancer through annual fundraising events. Over the past 11 years, For Kids' Sake Foundation has raised more than $2.1 million for childhood cancer, with half of the money going to research and the other half donating to help ease the burden on families seeking treatment for their child. While funds are primarily donated to families in Megan's native Massachusetts and Florida, the nonprofit has helped families across the country and internationally.
What inspired you to start the For Kids' Sake Foundation?
My daughter Malia was diagnosed with stage four neuroblastoma cancer on April 1, 2011. I had never really heard it. Maybe I had seen a St. Jude commercial. In my mind, when kids got sick, it was very, very rare, and they all got healed, and St. Jude saved everyone. That was not the case. When Malia was diagnosed, it was a big wake-up call to how devastating a diagnosis is. Little did I know that it was the largest childhood pathogen in the United States – that was shocking to me – and how little money there was for research. We also met many parents. They say that more than 50 percent of families end up going broke as a result of a childhood cancer diagnosis, because usually one parent has to stop working and the other parent has to work less. I know Malia was a 14 month protocol, and many times we both had to be there. One of us had to be there all the time so my husband stopped working completely. It was a very big wake up call when my daughter was diagnosed.
Megan Jusczyk, left, poses with her daughter Malia at one of For Kids' Sake Foundation's annual golf tournaments./Courtesy of Megan Jusczyk
What do you spend the money you collect on?
We fund research because only four percent of the National Cancer Institute's budget goes to childhood cancer, even though it's the number one cause of death. that is [astounding] for me, and I do believe it will change, but that's the way it is now. Half of our money goes to research and half to families struggling to pay bills. Let's say there's a $10,000 deductible, and then there's travel expenses. … Sometimes these families have to leave the state. All these costs are piling up and there are not many resources. For example, parking costs $55 per day if you are in New York City. Not everyone can understand that, so we're trying to help so kids can get the treatment they need.
What drives you to put so much work into this organization despite everything you are going through while your daughter is in treatment?
I kept that same level of passion all those years because I would watch my daughter and I would see her smile through everything, everything we do to her, and she still loved us as parents. What a gift. Physically and emotionally it feels like you are torturing your child. The treatments are brutal. The fact that she could put a smile on her face, get up every day and work hard to become a great soccer and softball player – the fact that she could get up and do that job, how could I ever stop trying to help these families? It just wasn't an option. These kids give everything. Every one of those kids does it. People say, 'Malia, she's special and different' – of course she is, but all those kids are fighting to live, and all those families are giving everything they can. If I'm in a position to help, how could I not?
What kind of feedback have you received from families you've been able to help?
It's usually like, "Thank you so much for helping us bridge that gap." It's about trying to help them get through that financial poison that comes with a childhood cancer diagnosis. It is this small area that they need help. They just need help for this time, and hopefully by then they will be in a place where their child is cancer free. Sometimes we pay mortgages for a month to give people that extra money that they can spend on the little things that matter. People are incredibly grateful. As someone who's been through it, I don't want them begging their friends for money or setting up a fund where they have to beg their families for money. As a medium-sized non-profit, we try to help as much as we can, and I also try to let them know about other non-profits where they can get help.
Do you have any future partnerships, programs, or events that you want people to know about?
On June 26, we'll be doing our Cancer Crush 5K & 10K in Plainville Park. It's a great event to sponsor and participate in. It's a great event to just go to, even if you just want to cheer on the runners. We do superhero theme when people want to dress up in superhero costumes. We encourage that because these kids are little superheroes, so it's very appropriate to have a superhero theme.
Is there a specific fundraising event that is particularly memorable to you?
The 5K & 10K to Crush Cancer is an event we do in our hometown of Plainville, Massachusetts. We are doing our 12th this year. We started the event as soon as Malia was diagnosed, and we did it a few months later. Malia runs it. We have watched her cross the finish line and run with her friends for several years. That is definitely the most exciting event, because she really gets to participate. She knows we enjoy it, but she doesn't know how lucky we are to see her alive and blooming and running a 5K, and how much joy that brings us as parents because we know how lucky we are to have her.
What has been the most rewarding part of your job?
To be in a position to help someone when they need it most.
What do you want people to learn from your story?
To contact their lawmakers and tell them that four percent is unacceptable. Childhood cancer is the biggest disease killer and we want change.
Want to make a difference in your community like Megan? Find local volunteer opportunities.