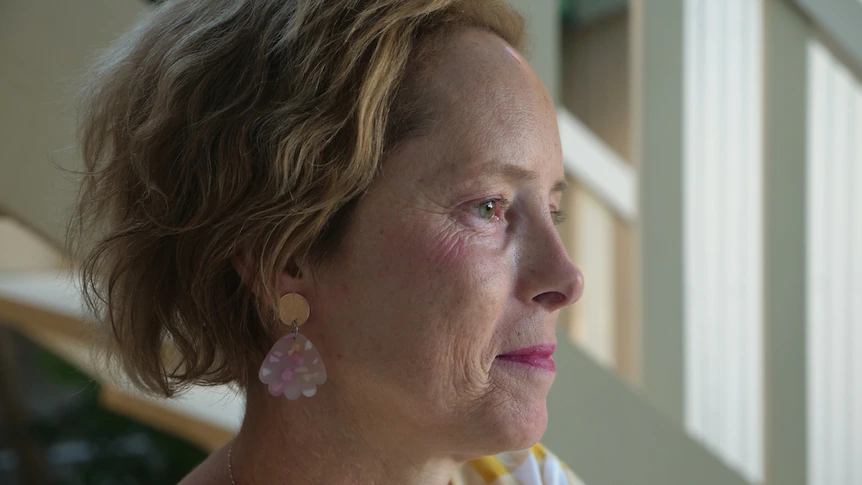 Queensland mum with terminal cancer writes Pink Punk Mum to help parents talk to children about illness
When Kala Heinemann was still breastfeeding her youngest child, she noticed a lump in her breast.
Most important points:
Kala Heinemann was diagnosed with metastatic breast cancer in 2018 Ms. Heinemann has written a "happy" children's book to help other parents talk about cancer CQ University psychologist Cassy Dittman says parents should be as open and honest as possible with children
She saw a doctor, but he was dismissed as "something that happens with breastfeeding" while a scan revealed nothing.
So she went on with life.
"Then I got a lot of pain in my body, and things just weren't right," said Ms. Heinemann.
"It got to a point where something had to be done, so I went in for a scan one day and I was immediately diagnosed with breast cancer.
"Unfortunately, at that stage it had metastasized, so it was metastatic breast cancer, stage four."
Diagnosis an opportunity to write
The woman from Central Queensland said she had always wanted to write children's books, but that she was drawn to other dreams by studying international law and living abroad with her family.
Ms Heinemann was diagnosed while living in Israel in 2018.
Last year she moved back to Australia to live in Emu Park, having grown up in Rockhampton.
Ms. Heinemann says the book helped her talk to Leo, 8, and Oscar, 5 (ABC Capricornia: Katrina Beavan)
The mother of two said she saw her diagnosis as an opportunity to write her first book, Pink Punk Mum, about a child who helps his mother diagnose and treat cancer.
"It sounds kind of heavy, but it's actually a very nice, bright and light book. There is a lot of joy. There is a lot of hope," she said.
"In the story itself I don't go into too much detail about what cancer is and how it affects women medically, but I do talk a lot about the side effects.
"How you get really tired of the treatment, or how mothers aren't always available for the kids to play with."
Pink Punk Mum shows a mother who loses her hair to grow it back in a mohawk style, dyed pink. (Supplied: Shawline Publishing)
Conversation starters
Mrs. Heinemann used the book to talk about her health with her own children, now eight and five.
"It's very, very hard to talk to your kids about it, especially when they're little and they don't understand," she said.
"They knew I was tired of my illness, but I wasn't really talking about cancer…I thought they were too young to burden them with big words and such ideas.
"There are obvious things like hair loss. There's nothing you can do to hide that from your kids. You've lost all your hair, and that needs to be discussed."
The book mimics her own experience, showing a mother who loses her hair to grow it back, dye it pink, and rock a mohawk.
Ms. Heinemann said she hoped the book would help at least one other family start a conversation about cancer and be hopeful about what lies ahead.
"Making someone smile, bring a little joy, bring a little lightness to a really dark situation…that would be great," she said.
Mrs. Heinemann with her youngest son Oscar. (delivered)
Talking to children about illness
CQ University psychologist Cassy Dittman said these kinds of stories were especially helpful for young children.
"Stories or resources are really, really helpful for them to get a more concrete picture of what the future might hold for them, and for their parent or relative," said Dr. Dittman.
She advised parents to be as open and honest as possible with children and to make time to talk to them.
"It's about cutting out all the other distractions, sitting with them in a place where they feel comfortable and happy, or even in a place where you're not face to face…like walking," said Dr Dittman. .
"Find out if they have any questions about what to expect.
"They're trying to predict the future, so it could be simple things like, 'Well, who's picking me up from school?'"
She says parents should be alert, follow their child's lead when they have questions, and give kids time to process the news.