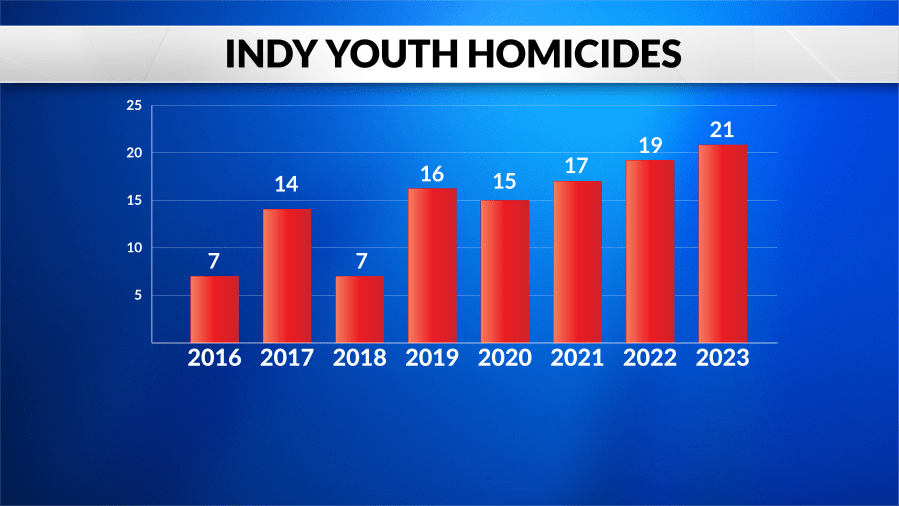 12 people shot in an 18-hour span during violent weekend in Indy
INDIANAPOLIS — It was a violent 18-hour span in the Circle City after 12 people were shot on Sunday.
Of the 12 people shot, three people were killed and many others are still recovering in the hospital.
Among those killed were a 23-year-old, a 17-year-old, and an 18-year-old. With the death of the 17-year-old, that brings the city's youth homicide total up to a record-breaking 21 killed this year.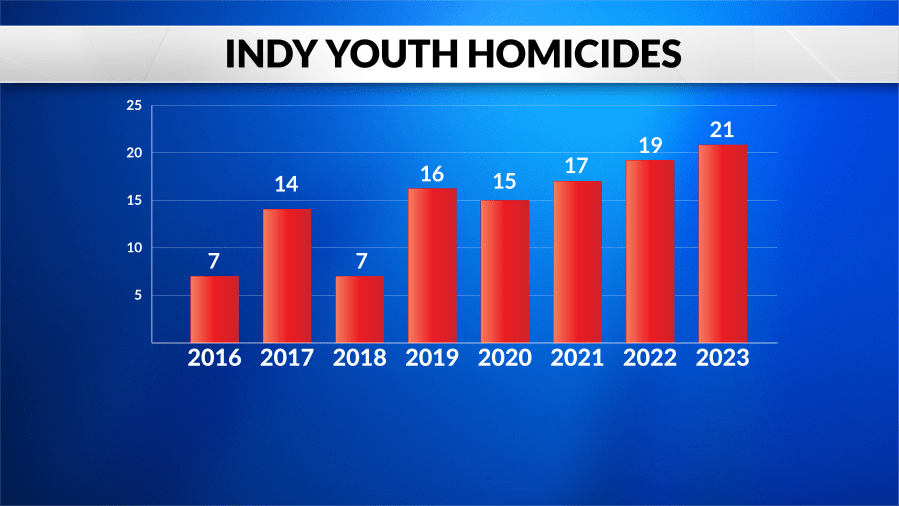 The deadly weekend is leaving both police frustrated and a community heartbroken. 
"Anytime we have one person shot, that is too high," said William Young with IMPD. "Anytime we have one person that falls victim to a homicide, that's too many. One is too many."
The series of shootings began just after 1 a.m. on Sunday and ended just after 7 p.m. on Sunday night. 
This includes:
Six people shot in the 5900 block of Madison Avenue on the south side. The coroner confirms that 23-year-old Samuel Ling was killed.
Three people shot on the first block of Edwin Court near the Indianapolis Motor Speedway. 17-year-old Luis R. Garcia died at the hospital.
One person shot in the 500 block of N. Traub Avenue.
Two people shot in the 7300 block of Railhead Court. The coroner confirms 18-year-old Quarran Marshon Hopkins was killed here.
IMPD says the number of shootings we've seen recently is concerning, and the community needs to find other ways to resolve conflict.
"Conflict resolution is everything," Young said. "We've got folks that are just engaging each other over a social media beef, or the way someone looked at you, or they bumped into you… Can you imagine some of these folks, some of these incidents we had over the weekend, and imagine if they just walked away?"
As of Sunday… Indianapolis is at a total of 195 homicides for the year which is four fewer than this time last year.
But the total number of youth homicides in 2023 breaks the previous record of 19 set last year. The city is now at 21 youth homicides and the year isn't over yet.
"Gun violence affects us all and unfortunately it's not just one part of the city or one family or one school, it's all of us together," said Matt Landry, the senior pastor of Castleton United Methodist Church.
The most recent fatal shooting was near Castleton United Methodist Church where a prayer vigil was going on earlier in the day for the recent rise in gun violence, and just hours later shots would be fired only a mile away.
"My hope and prayer is that people would put down the gun and find ways to disagree and conflict without this sort of violence," Landry said. "And I pray we can find ways to be peaceful and be nonviolent with one another."
Going forward, IMPD says they are going to continue to do work on new tactics including working with updated technology to help bring a stop to all of the gun violence.
Sunday's deadly shootings come exactly one week after the mass shooting at a Halloween party on Indy's northeast side. That's where ten people between the ages of 15 and 21 were shot, and one of those young people died.