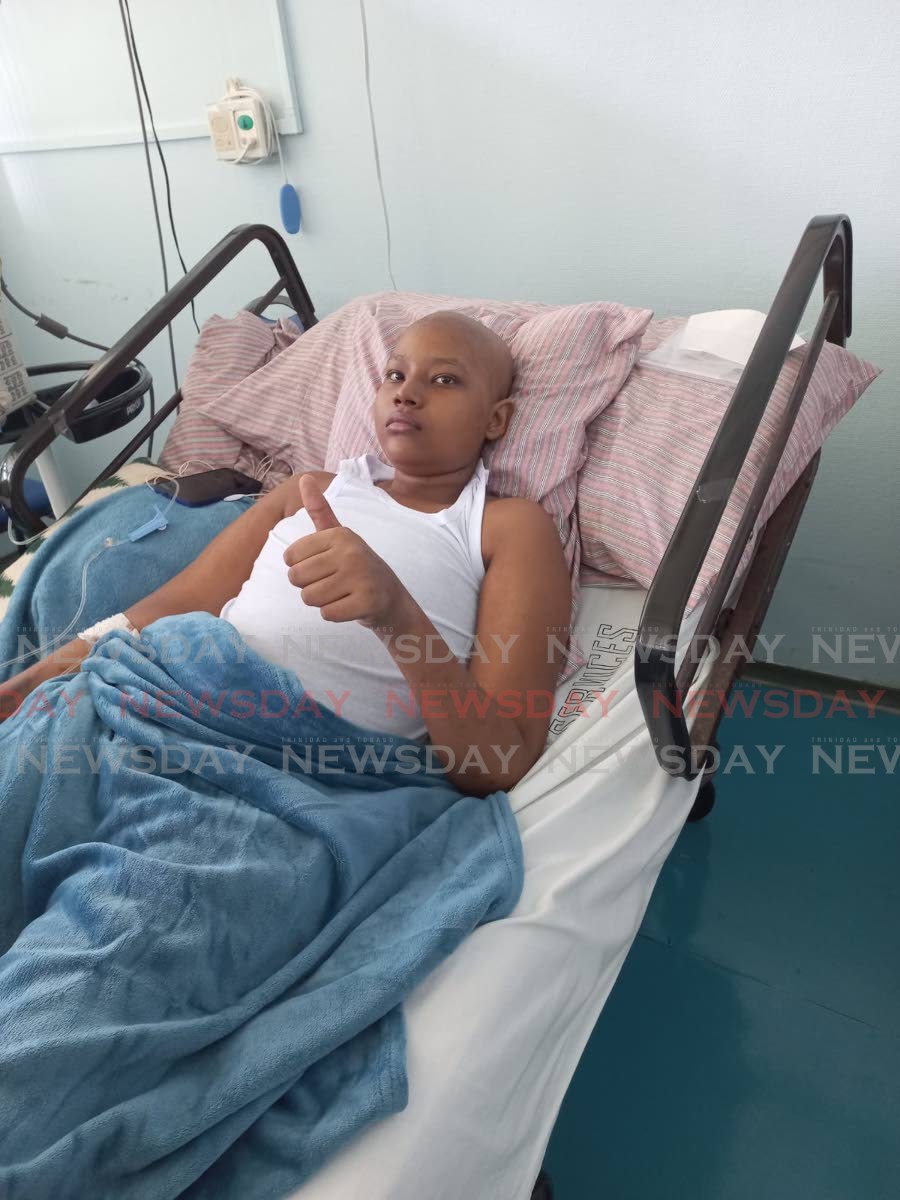 Cancer-fighter Triston Ramlochan, 14, dies
News Melissa Doughty 5 hours ago CANCER FIGHTER: Triston Ramlochan, 13, puts on a brave face at the Eric Williams Medical Sciences Complex on Tuesday. Ramlochan was diagnosed with leukemia in 2017. PHOTO COURTESY OF PARENTS –
Triston Ramlochan has passed away. The young cancer fighter died Thursday, his mother said, Natalie Joseph told Newsday.
Ramlochan battled acute lymphoblastic leukemia and had to be treated abroad to survive. He also needed life-saving drugs that were very expensive. The family had also applied to the Children's Life Fund.
Ramlochan's father, Ramdeo, told Newsday that the family had heard about the Children's Life Fund and had been granted permission for his treatment abroad.
"He became ill and returned to the hospital.
"We have argued with them. We had some savings of our own that we were willing to take Triston and his mother out of here because the Children's Life Fund wasn't used until after the treatment which would have been two months or a month and a half after he'd run out. there; the Children Life Fund would have been in use."
Ramdeo said the family begged and begged to buy the tickets themselves in order to get Ramlochan out of the country faster for life-saving treatment.
He said he believed his son and mother would have been out of TT by now if the fund had approved the tickets. He said the hospital was waiting abroad to admit Triston.
Newsday covered Ramlochan's story in January and his mother prayed for the gift of life for his 14th birthday.
In the January article, doctors from the North Central Regional Health Authority (NCRHA) said that even after treatment ended in 2020, Ramlochan's leukemia was still present and he needed immunotherapy, followed by a stem cell transplant or cell therapy to treat the disease. to survive. None of these are available in TT.
The public supported Ramlochan's cause and thanks to her help, the family was able to get some of the medicines and tests they needed.
A follow-up article was written in March stating that Ramlochan was subsequently admitted to the Eric Williams Medical Sciences Complex (EWMSC).
In the March article, Joseph then said she had hoped she would have heard of the Children's Life Fund sooner, but at the time she hadn't and the public donations were used for a bone marrow transplant test.
The test showed that Ramdeo was a match and could be a bone marrow donor.
Ramlochan was admitted to the Indraprastha Apollo Hospital in New Delhi, India, one of India's largest health chains, on January 22.