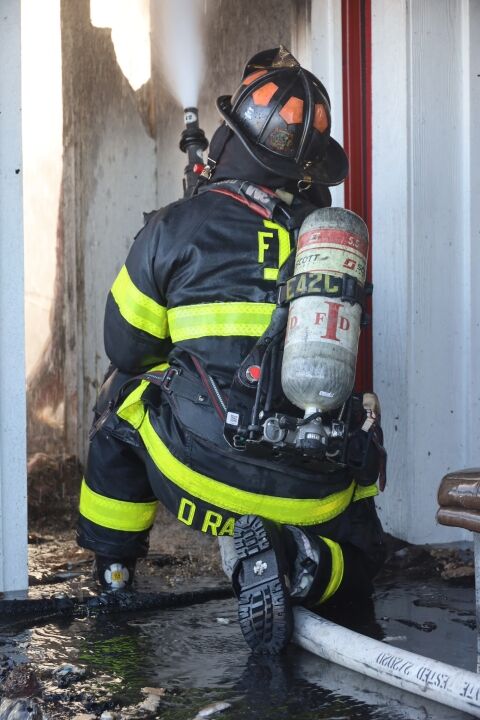 PHOTOS: Fire erupts at SE Indy auto shop, setting off 'large supply' of fireworks
INDIANAPOLIS — Black smoke was visible from Interstate 70 as Indianapolis fire crews responded to a fire Friday morning that broke out at an auto body shop housing a 'large supply' of fireworks on the city's southeast side.
Indianapolis Fire Department crews were called around 9 a.m. Friday to an auto shop in the 3400 block of S. Post Road as heavy black smoke filled the air, according to a tweet from IFD.
Employees at the garage arrived at work to find a fire inside the structure and called 911. Upon arrival, IFD firefighters were told that the garage also housed a 'large supply' of fireworks.
Shortly after arrival, IFD said firefighters reported that the garage portion of the building had collapsed and that the fireworks had begun to sound off.
The area near the garage was classified as "hydrant challenged" due to how close the interstate was, IFD said, which led to challenges for the firefighters trying to get a water supply established.
Additionally, the "large quantities" of fireworks elevated safety concerns for the crews on scene, IFD said.
Eventually, the fire was put out without any reported injuries.
"Crews battled the blaze from an initial, defensive ops-only position, but transitioned to an offensive attack within 30 minutes," IFD said. "The fire was under control in 1 hour 15 mins."
Photos from the scene, provided by IFD, can be seen below: